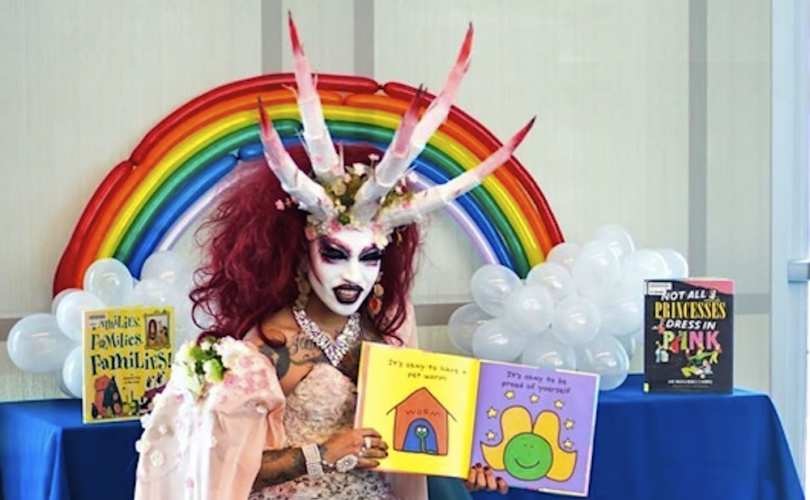 Endorsed by the American Library Association, the "Drag Queen Story Hour" has spread to twenty-one states, targeting preschool and grade school children with homosexuality and transgenderism in public libraries.
The Associated Press filmed a "Drag Queen Story Hour" in New York.  "Who wants to be a drag queen when they grown up?" asked the drag queen.  "Meeee!!!" cried the room of little children.
Coloring books used at these immoral programs teach toddlers how to "create your own drag name," and "circle your pronouns."
---
---
The FBI reviewed only a few thousand of the nearly 700,000 messages found on computer the disgraced congressman shared with Huma Abedin
"There was no real investigation and no real search. It was all just show — eyewash — to make it look like there was an investigation before the election."
---
---
Marilou Danley, the girlfriend of Las Vegas mass shooter Stephen Paddock, worked for the FBI, according to credit application data the Australian national reported as part of a loan application.
That's the same Danley whose fingerprints were found on Paddock's horde of ammunition packed into unused rifle magazines.
Publicly available intelligence obtained from consumer credit reporting bureaus show Danley claimed the "Federal Bureau of Investigation" as her place of employment.
Interesting revelation.
---

You read that right, making tire marks on a street is now a hate crime.
---
Liberals have relentlessly assured that Islam is a religion of peace and that we must respect and embrace its cultural contributions. Of course, we soon come to realize that this includes all of the less appealing practices of its never ending religious requirements.
---
They are rushing 5G into service without adequate safety tests. Mike Adams has a perspective that makes the introduction of 5G an even more frightening prospect.