Democrat presidential nominee former Vice President Joe Biden and his ex-boss former President Barack Obama are scheduled to hold two joint-appearance rallies in Flint and Detroit, Michigan on Saturday. However the public is not invited and the locations of the drive-in rallies have not been disclosed.
---
---
General Flynn
Thank you
---
---
American people are dumb and hedonistic enough to vote for a Biden-Harris ticket, and by the way, the establishment doesn't believe it either. That's why they came up with the mail-in vote scam and extended the vote count beyond election day
Speaker of the House Nancy Pelosi weighed-in Thursday on the upcoming presidential election on November 3rd; saying "whatever the end count is" Joe Biden will be "inaugurated on January 20th."
"I feel very confident that Joe Biden will be elected President on Tuesday. Whatever the end count is on the election that occurs on Tuesday, he will be elected, on January 20th he will be inaugurated President."
---
Philadelphia became the latest 'ground zero' for looting, rioting, violence and unrest last week following what appears to be another justified shooting by police of a black man who was coming at …
---
---
When last we left you, Dear Reader, we were dumpster-diving for ballots, navigating the depths of a 15-yard box for the 100 stale beer and coffee ground-stained ballots dumped by some malevolent …
---
---

Remember last March when the lock-down was 'only' for three weeks to "flatten the curve?"
– Take a look around today and medically useless masks are largely 'compulsory' and NOT everything has opened back up.
---
---
---
---
Twitter is censoring the raw audio of Detroit poll workers being trained by state election officials to lie to voters, destroy ballots, disenfranchise poll challengers, and perform other tasks that put next week's vote in jeopardy in the key battleground state of Michigan.
---
---
Speaking to Tucker Carlson during a recent bombshell interview, former Hunter Biden associate Tony Bobulinski spilled all about his past meetings with Democrat presidential candidate Joe Biden, whom Bobulinski says knew full well what his son Hunter and other family members were up to in their dealings with China and other foreign entities.
Perhaps the biggest lie told by Joe throughout this saga is that he supposedly had no clue about anything Hunter was doing overseas, when Joe appears to have been part and parcel of these operations every step of the way.
---
Democrats insist Biden was actually a Republican when he committed those crimes
---
---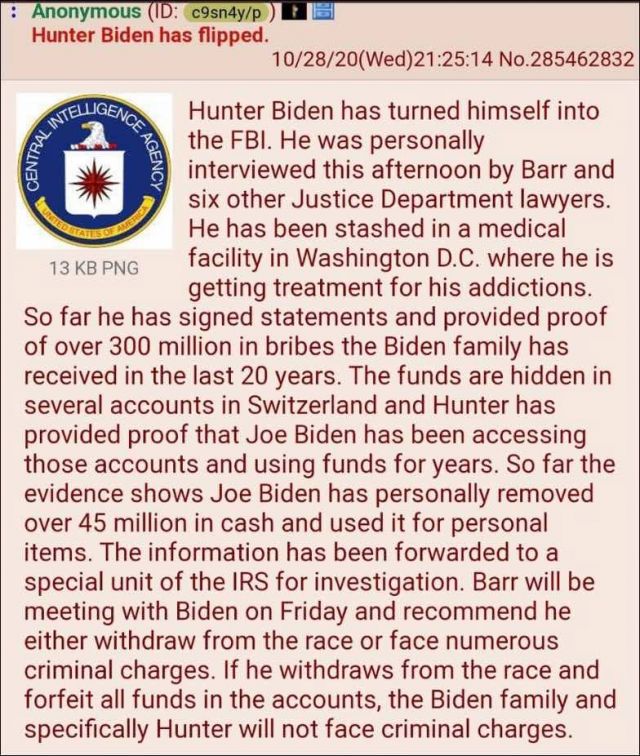 CURRENT LIVE STREAM VIDEOS
Mike Morales ~ THE WEATHER PLAN #WEATHERWARFARE LIVE!! #ANALYSIS
Germany 1930's America 2020 Politicians brought the Nazi's to War, What's The Parallel?
Top Articles
TOP 50 ARTICLES
---
---
---