92 Legislators from Multiple States Write a Letter to the American People Calling for a 50-State Audit, Decertification Where Appropriate, and Possible Convening of the US House of Representatives pic.twitter.com/A6EztSR2L1
— Wendy Rogers (@WendyRogersAZ) October 4, 2021
---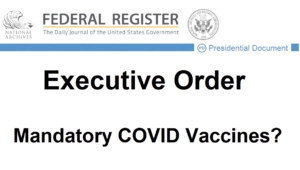 I'm talking about the Executive Order (EO) commanding all US companies with more than 100 employees to mandate the COVID vaccine for those employees. I can't find the EO. I don't see it in the Federal Register, where it's supposed to be published. If it hasn't been published, then there is no mandate.
---
---
With all the crazy that has happened over the past couple days, something serious is in the works. [Deep-state] is likely wanting to cross a red line but they know the good guys are watching them like a hawk and they keep stopping stuff before it happens. The next few days are likely going to be very exciting…I SAY THERE ARE VERY FEW DS LEFT TO FIGHT ..BUT THEY WILL NEVER SAY DIE!
CirstenW
---
---
The US federal government is secretly ordering Google and other search engines to track and provide data on anyone who searches certain terms through "keyword warrants," according to a new report.
In recent years, only two such warrants have been made public, but accidentally unsealed court documents obtained by Forbes show the government has been making these requests far more frequently.
---
How about pictures?
---
Democrat Congresswoman Rashida Tlaib Was Caught on Camera Saying That She Only Wears a Mask for Political Reasons.
"I'm Just Wearing It Because I've Got a Republican Tracker Here,"
---
Dr. Zandre Botha was shocked after studying the blood of "vaccinated" patients that were coming to her with serious illness after being injected with the shots being called "Covid vaccines".
---
---
---
---