Since the deep state practices with "drills" see if you can guess what may be in the plans to try to avoid their take down. Was Covid a practice run?
Ebola outbreak map:
Monday, June 14, 2021 5:48
NIH NIAID Hiring
high containment facility Fort Detrick, MD.
participate in deployment rotations to domestic sites.
Assist with Ebola surveillance and research activities
READ FULL JOB AD
MORE EBOLA JOBS JUST POSTED TODAY
EBOLA RESEARCHERS NEEDED
INFECT MONKEYS WITH EBOLA AT NIH
---
Vaccine Researcher Drops Bloodcurdling 'Truth Bomb'
Google tried to censor it, but this previously unseen research cannot be ignored – and suggests the COVID-19 vaccines could be far worse than they look. Not only is the 'spike protein' your body produces worse than COVID itself, it spreads like fire.
---
We shouldn't be surprised anymore, but nearly all the positive buzz about covid vaccines comes from celebrities, doctors, and bureaucrats who are all paid to push pro-vax propaganda.
And now, the Biden regime has been caught red-handed trying to peddle more "positive" endorsements for the deadly spike protein vax by paying off hospital staffers.
---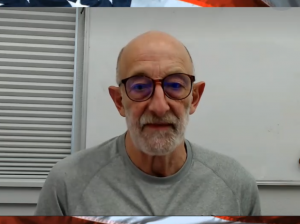 Internet data mining expert Clif High uses something he calls "Predictive Linguistics," which sorts through billions of bits of information on the Internet to predict future trends and events.
High predicted Trump would win in 2016, and, on election night, High also predicted Hillary Clinton would go "missing," and both happened. Those are just a few of the big calls High has made over the years.
High no longer sells his work to the public, but still does Internet research. High has new data on multiple subjects. Let's start with new data that paints a very "Dark Agenda" with the lab created CV19 virus and the experimental "vaccines" to treat it. We start with a new term he has come up with called "Vaxxxidents."
According to High's data, Vaxxxidents are a coming trend for people who have taken the CV19 vaccine. High explains, "Vaxxxidents are going to be caused by the creeping brain fog that is caused by the spike protein (in the vaccine). Spike protein is the bio weapon. It does not matter how it gets into your body, if it comes in through the virus or it comes in with an injection, the spike protein is the toxin. . . . You think less well over time. The time component is going to be months and maybe 24 months. It's sort of like Alzheimer's. . . .
---
---
---